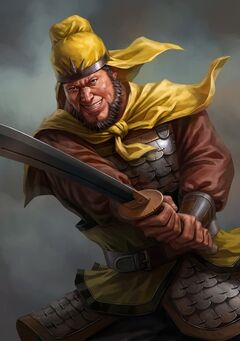 Gao Sheng 高昇 is a fictional character, presumably created by Luo Guanzhong, who appears in the novel Romance of the Three Kingdoms and various Three Kingdoms-themed games by TecmoKoei.
Biography
[
]
This officer of Zhang Bao's fought in the battle of Quyang. Liu Bei, who was leading the advance guard of the Imperial Forces, ordered Zhang Fei to battle. Gao Sheng died at the hand of Zhang Fei.[1]
Notes
[
]
References
[
]
↑ Koei. "Officer Encyclopedia" in Romance of the Three Kingdoms XI. Koei ltd., 2006.
Sources
[
]