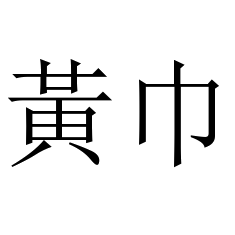 Did you know...?
*...it is suggested the Zhang brothers held human sacrifices?
*...Zhang Jue titled himself Great Virtuous Teacher?
*...Zhang Jue had a book called Book of Great Peace, with Green Headings?
*...many Yellow Turbans in Romance of the Three Kingdoms are fictional?
Featured Article

Zhang Jue
張角, was an adept of the popular
Way of Huang-Lao
cult concerning the Yellow Emperor and the sage Laozi. In the 170's he acquired wide popularity through his teachings known as the '
Way of Great Peace
' (
Tàipíng Dào
太平道). In 184 A.D. he rebelled against the Han. Wearing yellow pieces of cloth, his movement became known as the movement of the Yellow Turbans (
Huángjīn
黃巾).
Read More...